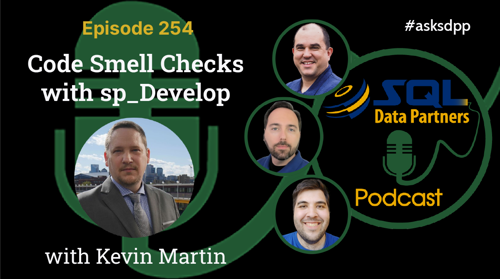 What if there were a tool that allowed developers to perform database code (smell) assessments helping them to adhere to established best practices? Well there is, and it was created by Emergent Software's very own Senior Data Architect Kevin Martin!
Join hosts Carlos Chacon, Kevin Feasel, and Eugene Meidinger as they interview Kevin and learn all about sp_Develop and how it came to be in the latest episode of the SQL Data Partners Podcast.
sp_Develop
Want to use sp_Develop on your project? Get started by taking a look at the official wiki and Github repo.
The SQL Data Partners Podcast
An episodic conversation about solving problems with the Microsoft data platform, our podcast combines trending topics and professional development to keep you easily informed and entertained. View all episodes here.
To enable comments sign up for a Disqus account and enter your Disqus shortname in the Articulate node settings.