This month, we're spotlighting Isaac, our SQL Server DBA! Learn more about Isaac's interest in working with data, his podcast all about science fiction & fantasy, and his past as a New Orleans jazz musician below.
What's your professional background?
Before coming to Emergent Software, I spent 5 years working for a consulting firm in the area. During that time, I worked on several long term projects involving SQL and ETL with positions ranging from development to QA, to Product Support. When I was in between clients, I worked on smaller data science and data streaming projects using Python, AWS, and Spark.
What drew you to join the Emergent Software team?
I was looking for a position where I could develop my SQL and database development skills. I had thought about pursuing a career in database administration or design, so when I ran across Emergent Software's Database Developer/DBA position, it seemed like the perfect match!
How do you like to fill your time outside of work?
I co-host a podcast where a friend and I talk about a lot of the science fiction and fantasy stories we have read. As you might imagine, there are stacks of books all over my apartment. I have also been running a Dungeons and Dragons group for some college friends that have been meeting regularly for over 2 years. Finally, with all of the additional time inside my apartment, My wife and I have been spending a lot of time trying new recipes and experimenting with cocktails.
What's one fun fact about yourself?
I spent two years working part-time as a bar musician playing New Orleans jazz music. I would play every Sunday night until bar close, then show up to Monday morning meetings just a few hours later!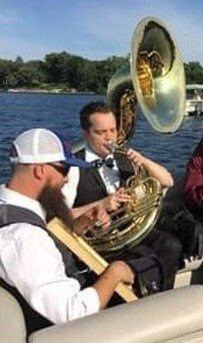 What was your first job?
I was a dishwasher at a Mexican Restaurant in my hometown. My first day on the job was Cinco de Mayo, and the place was absolutely packed. I worked there through most of the Summer before the restaurant closed. Since then, I have avoided working as a dishwasher!
Who was your childhood hero?
"Weird Al" Yankovic was my biggest hero growing up, and I would listen to his music all the time. His music always made me laugh and encouraged me not only to take up music myself, but to also not take myself too seriously. Last summer I was able to fulfill a childhood dream and meet him after a live show, take a picture, and get his autograph.
Thanks for sharing your story with us and for being an integral part of our team, Isaac! Stay tuned for future spotlights of the great people who make up Emergent Software!
To enable comments sign up for a Disqus account and enter your Disqus shortname in the Articulate node settings.