Voted as the "world's coolest indoor waterparks," Kalahari Resorts & Conventions are full-service vacation destinations including meeting and convention facilities. With locations in Pennsylvania, Ohio, Wisconsin, and Texas, Kalahari's innovative Waterparks, family entertainment centers, luxury spas, restaurants and convention centers deliver beyond expectations.
Finding a new website support partner after a bad experience
A failed website development project with another local web development company left Kalahari's digital marketing team searching for a new development partner during one of their busiest times of the year. Luckily, they found Emergent Software ready to pick up the pieces and carry the project through to completion.
The situation was urgent — Spring Break booking season was coming up soon, and the website needed to be ready. The development activity of the Umbraco CMS website was transitioned to Emergent Software in days, and the project was quickly completed within a month of the transition.
Emergent Software became Kalahari's exclusive web development partner, enhancing the site regularly and completing initiatives like: 
Improving stability and performance
Setting up 24/7 monitoring and critical-issue alert response
Ensuring compliance with GDPR privacy laws
Enhancing the site's mobile experience
Increasing site accessibility on a variety of platforms
Adding features to translate the entire website into multiple languages
Enhanced spam filtering
A refreshed website with the latest Umbraco CMS
After years of Kalahari and Emergent working together to continuously enhance their website, Kalahari decided it was time for a refresh. They approached their trusted Emergent team to help them build a site that met three key business goals: the site must provide a cohesive user experience across Kalahari's growing number of resorts and programs, it must have a fresh new look that better reflects their updated brand, and above all, it must be reliable and scale to the major spikes in traffic that comes with being a top destination across the country.
With their web development partner firmly in place, the next big question was which Content Management System (CMS) fit their business goals best. With Emergent's experience across numerous CMS's, they turned to our team of experts to guide them in this decision. The team considered all CMS options, and eventually determined that the latest version of Umbraco fit their unique needs best. Some of the Umbraco features that appealed to Kalahari included: a better multilingual editing experience, the introduction of a new block editor, and the re-platform to .net core/5+ (Microsoft's latest development framework), allowing Kalahari to future-proof their system and provide better performance on the site. With these powerful new features, coupled with its open-source (free) price tag, Umbraco was a clear winner.
To give the website a fresh new look, Emergent Software enlisted the help of LN Design Co., a long-time design partner of Emergent based in the Twin Cities. Starting with a full review of new and available assets in Kalahari's portfolio, followed by in-depth competitive research, and a color study, LN Design was able to provide a bright, fun design with a lot of movement, generating excitement for guests looking to plan their next family vacation.
Building a cohesive user experience
The Kalahari website serves as a centralized digital hub connecting the variety of services, amenities, and experiences they offer their guests. What was at one time a disjointed and confusing experience for users as they were brought to various vendor sites to book a variety of activities for their stay, has become a unified experience, incorporating everything Kalahari Resorts has to offer in a single, streamlined user journey.
Of the many services to bring into the new unified user experience, the top priority was their ecommerce cart functionality. Ultimately, Vendr was selected for its ability to be easily customized to meet Kalahari's ecommerce needs. The solution integrated nicely into the site for a seamless experience for guests looking to add souvenirs, gifts and treats to enhance their stay.
Website reliability, a top priority
Kalahari's old website struggled to handle surges of traffic generated during their busy season or following one of their many successful marketing campaigns. A particular challenge was handling the traffic spike caused by Kalahari's participation in the annual Macy's Thanksgiving Day Parade.
Furthermore, many of Kalahari's traffic surges are location-based. The new website needed to be able to scale to handle traffic from a marketing campaign in Texas without affecting the site in Wisconsin or Ohio.
To solve these challenges, Emergent Software hosts the new website on Microsoft Azure Cloud Services using location-based load balancing to isolate traffic surges to a single location, which will in turn scale dynamically to meet the resource need caused by the surge. Emergent load tested the site to prove out this strategy before going live and, for additional redundancy, implemented a second instance of the website that kicks in if the primary instance ever becomes unavailable.
In 2021, before the refresh, the site crashed at 3,580 requests per minute. During the 2022 Macy's Day Parade, the site reached 15,000 requests per minute — that's over 50 times the normal site traffic — without any impact on site load time.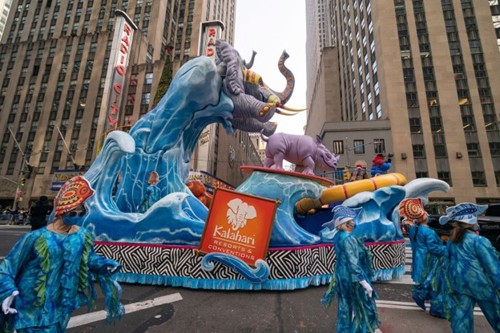 Down to the wire
The proposed four-month timeline was ambitious for a website of this size. Then, Kalahari challenged us to try to beat their Spring Break booking rush, which meant the Emergent Software team had just over three months to complete development of the new website. That included transferring more than 600 pages of content - thousands of content nodes - from the old site into the new site's templates.
Our team proved up to the challenge, and the result is a beautiful website that will allow Kalahari to meet their goal: striving for an interconnected user experience across the entirety of their digital footprint. Emergent Software is proud to partner with them to make that happen!
An award-winning site
Kalahari loved the new site — and they weren't the only ones who were impressed. Emergent Software won an Umbraco Award for Best Editing Experience. The jury said:
''This site gives the editors full control over components on the page with easily customizable areas that you can preview as they are created. The customizable e-commerce section gives authors finely tuned options for each location and full control over each product. Great use of multi-location and on-screen editing to create a user-friendly editor experience. Well done!''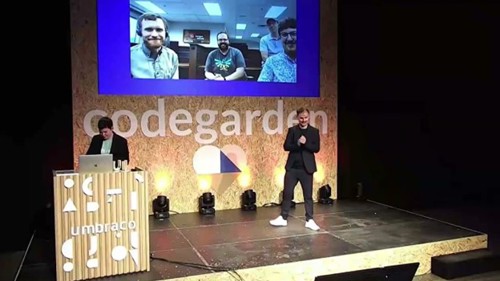 A long-term partnership
Emergent Software continues to work with the Kalahari team to improve their guests' online experience on an on-going basis.
For example, we've launched several refreshed microsites for Kalahari properties like Double Cut Steak House and Sortino's Italian Kitchen. These microsites use the same Umbraco instance as the main site and leverage the same great functionality while also each having their own custom theming. Having all of the sites on the same instance makes it easier to host, keep the system up-to-date, and update content.
We regularly work with Kalahari on other big and small enhancements through our continuous development service. Watch for exciting changes to come!
Technologies Used